Treat Root Causes of Eczema - Not Just Symptoms
Australia's first patented non-steroidal skincare treatment for eczema
Curezma understands that eczema isn't just skin deep, it affects your whole life. But we know you are more than your eczema.
You are a warrior, a fighter, and a survivor. Reclaim your life, eczema warriors.
Our Story
Jai and Aditi know firsthand the pain of seeing a child suffer from eczema. They were inspired to create Curezma, Australia's first patented non-steroidal eczema care range, after years of watching their own daughter and friends' children suffer without effective solutions. As a cosmeceutical scientist, Aditi and her business partner Jai dedicated over three years to developing a solution that not only relieves symptoms but addresses the root cause of eczema. They have developed Curezma to bring relief and renewed hope to families affected by eczema. Share your story with Jai and Aditi and be part of this journey to reclaim your lives and the lives of your loved ones.
The Curezma Difference
Treat eczema's root cause, not just symptoms.
Steroid-free and effective for your baby.
Driven by emotion, led by science.
Clinical Trials Summary
To prove the safety and efficacy of our product range we put the Curezma regime through the largest ever clinical trials conducted for an Australian brand within over-the-counter (OTC) and Skincare Industry.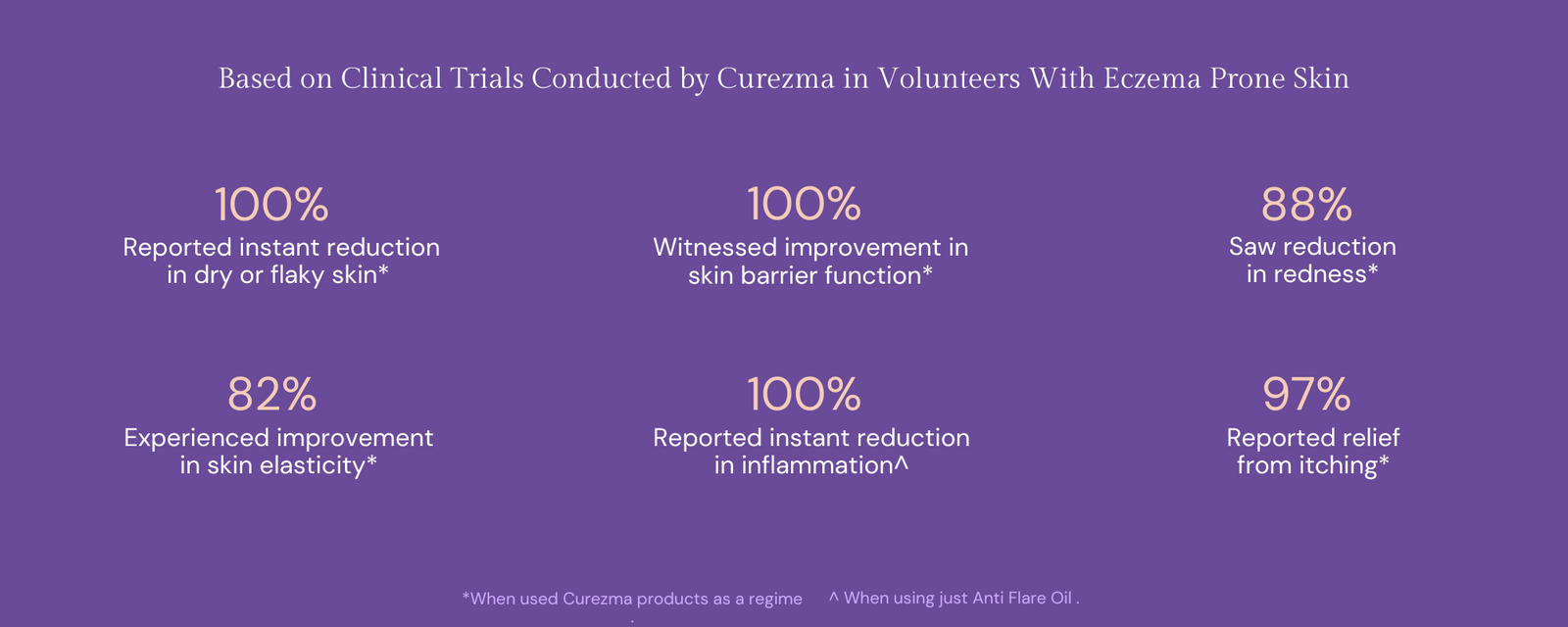 Treat eczema's root cause, not just symptoms.
Are you tired of eczema getting in the way of your everyday tasks like showering or getting dressed? We get it. You've tried every product out there but nothing seems to work.
That's why we developed Curezma. Unlike other products, our clinically-proven patented formula doesn't just mask symptoms but addresses the root causes of eczema.
In as little as five days, Curezma repairs your skin barrier and locks in moisture for 100 hours, so you can enjoy healthy, nourished skin. Break free from the cycle of frustration and start living your best life with Curezma.
Steroid-free & effective for your baby.
We feel your pain as parents when it comes to finding a treatment for your child's eczema. You're tired of trying product after product with no luck and possibly putting harmful steroids on their skin.
Enter Curezma - a non-steroidal patented skincare that works wonders for eczema, even in babies.
Curezma has gone through one of the largest clinical trials in Australia, proving its effectiveness is on par with corticosteroids - but without any harmful side effects. Give your baby's delicate skin the best and safest care possible with Curezma.
Driven by emotion, led by science.
Curezma was born from a passion and drive to improve the quality of life of eczema warriors. Our vision is to create a world where eczema warriors can live their lives fully, free from the discomfort and limitations of eczema.
Through our own personal journey, we understand the impact that eczema can have on your life. That's why our patented skincare range has undergone over three years of rigorous research and development. Curezma offers immediate relief and long-term healing, making it the unrivalled over-the-counter solution for all types of eczema.
We believe that when eczema is treated effectively, it's empowering. We want you to have the freedom to do all the things you thought were out of reach. We want you to reclaim your life!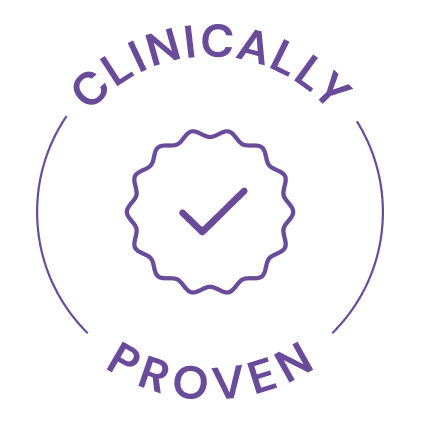 "Certainly would recommend giving Curezma products a go"
"My little girl has been experiencing eczema on & off for about 12months now prior to trying Curezma products I can honestly say that I think I tried every over the counter cream on the market along with a collection of prescription creams to get it under control. The prescription creams worked but we couldn't continue to use them as they advise to do a week on & a week off during the week off her skin would flare up & we would have to start again to get it under control. We are already recommend it to a few parents who have kids with eczema to give it a go."
Eczema Mum Rhiannon M.
What Eczema Warriors are saying
★★★★★

I have a 7 yo daughter who suffers with multiple atopic conditions including eczema. This presents around around her mouth which she is particularly upset by as it seems to drawn attention. I used the serum, balm and ointment for 2 days and these are her results. No itch, skin healed and no relapse. This has also been used topically to treat her elbow and back of her knees for eczema with the same result. I was relieved as this worked very quickly and I have been able to avoid topical steroids.

Dr Kelly Thornbury
★★★★★

My granddaughter's eczema was all over her knees and also elbows and stomach to the point of bleeding. Within a number of days of using Curezma we started to see results. Her skin is not itchy and bleeding anymore and looks clear.

Steven Elvidge
★★★★★

My skin was very itchy, red, dry and painful. I get embarrassed when people see how red my skin is. It impacted my self-esteem and stopped me from going out. I was very ashamed of how my skin looked. I've had eczema since I was young and have tried a lot of products. Curezma helped a lot with the itchiness and redness and got rid of all the flakiness. Seeing my skin improve has given me more confidence. I'm confident to show my skin, and I go out more with my friends now, and even go to places like the beach which I used to avoid. I also wear skirts, dresses, and short sleeves more. I recommend everyone giving Curezma a go!

Daniela Portelli