Description
Curezma® Baby+Kids Hydrating Hypoallergenic Cleanser is a gentle naturally derived formulation for eczema prone skin. It is dermatologically tested and contains prebiotic inulin to promote a healthy skin microbiome.
Do you have questions?
Checkout our FAQs we cover ingredients, steroids, curezma and common eczema questions.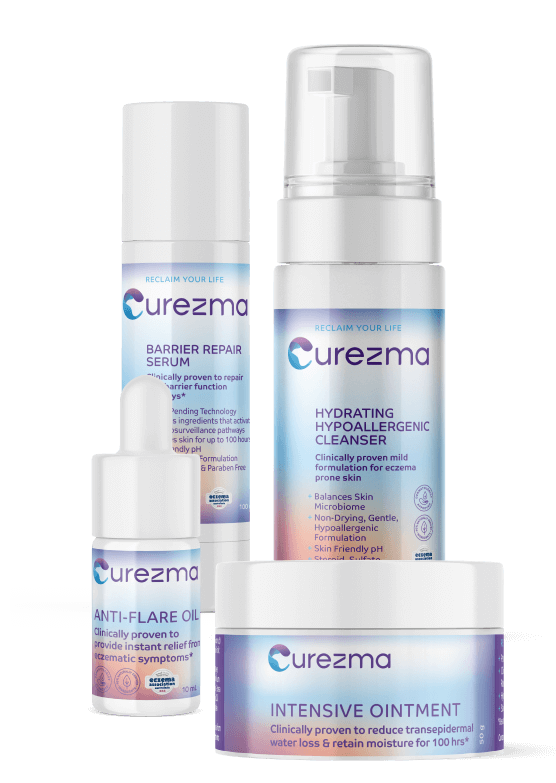 Your Complete Eczema Regime
For the best results, we recommend incorporating the entire Curezma range into your daily skincare routine:
Step 1: Morning Cleansing
Start your day with the Hydrating Hypoallergenic Cleanser. This gentle cleanser effectively removes impurities without stripping necessary oils, preserving your skin barrier and microbiome.
Step 2: Morning Barrier Repair
After cleansing, apply the Barrier Repair Serum. This potent serum combines humectants, emollients, and other powerful actives such as Glycyrrhetinic acid to restore your skin barrier, enhance hydration, and repair it within five days. It prepares your skin for the day and protects it from environmental stressors. Apply generously throughout the day when experiencing eczematic symptoms.
Step 3: Nighttime Cleansing
Before bedtime, cleanse your skin again with the Hydrating Hypoallergenic Cleanser. This nighttime cleansing step removes the day's impurities and prepares your skin for intensive hydration.
Step 4: Nighttime Barrier Repair
After cleansing, follow up with the Barrier Repair Serum. Applying it at night allows the serum to work overnight, deeply nourishing and repairing your skin barrier while you sleep.
Step 5: Nighttime Intensive Hydration
Before bedtime, treat your skin to the Intensive Ointment. Formulated with natural oils, this heavy-duty ointment instantly reduces transepidermal water loss and retains moisture for up to 100 hours. It nourishes your skin overnight, promoting healing and restoring its health. It's also a more effective alternative to wet-wrapping.
Step 6: Targeted Relief for Flare-ups
During flare-ups or when you need immediate relief, reach for the Anti-flare Oil. This specialised oil is enriched with high levels of emollients and actives to provide instant soothing and relief from eczema symptoms.





What Eczema Warriors are saying
★★★★★

I have a 7 yo daughter who suffers with multiple atopic conditions including eczema. This presents around around her mouth which she is particularly upset by as it seems to drawn attention. I used the serum, balm and ointment for 2 days and these are her results. No itch, skin healed and no relapse. This has also been used topically to treat her elbow and back of her knees for eczema with the same result. I was relieved as this worked very quickly and I have been able to avoid topical steroids.

Dr Kelly Thornbury
★★★★★

My granddaughter's eczema was all over her knees and also elbows and stomach to the point of bleeding. Within a number of days of using Curezma we started to see results. Her skin is not itchy and bleeding anymore and looks clear.

Steven Elvidge
★★★★★

My skin was very itchy, red, dry and painful. I get embarrassed when people see how red my skin is. It impacted my self-esteem and stopped me from going out. I was very ashamed of how my skin looked. I've had eczema since I was young and have tried a lot of products. Curezma helped a lot with the itchiness and redness and got rid of all the flakiness. Seeing my skin improve has given me more confidence. I'm confident to show my skin, and I go out more with my friends now, and even go to places like the beach which I used to avoid. I also wear skirts, dresses, and short sleeves more. I recommend everyone giving Curezma a go!

Daniela Portelli
Let customers speak for us